Description
To view the preview pdf of The Art of Cooking with Lavender go here.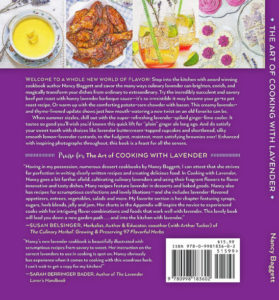 The book has over 70 images, all in full color. You can see some of them, plus the Intro and Contents by clicking on a short preview pdf of The Art of Cooking with Lavender here . It even includes a couple sample recipes you can try! The recipes run the gamut from appetizers, snacks, soups and salads to main and side dishes and, of course, a goodly assortment of sweets. (The back cover, at right shows just several of the many recipes photographed.)
There are always hard decisions to make when writing a cookbook–such as what the cover should look like. The very talented designer, Chrissy Kurpeski, came up with two options I liked a lot, but in the end I chose the brighter cover because I thought it was more eye-catching, fresh, and friendly.
To whet your appetite, here is a recipe from The Art of Cooking with Lavender that I fix often in cool weather–a creamy potato-corn-bacon chowder seasoned with culinary lavender and thyme. It demonstrates just how tempting culinary lavender can be in a savory dish. Lavender pairs beautifully with thyme, potatoes, and both smoked and fresh pork. It also teams up with cream, whether in this chowder, or my lemon custard (shown left on the back cover, above right) or my honey-lavender ice cream. To view the preview pdf of The Art of Cooking with Lavender go here.
Chunky Herbed Potato-Corn Chowder with Bacon
Heartwarming and hearty, this home-style chowder is perfect for a cool weather lunch or supper. The flavors of the bacon, potatoes, corn, lavender, and thyme mingle together for a very gratifying one-dish meal. Feel free to make the chowder ahead; the flavor improves during storage. Notice that I call for culinary lavender buds. Be sure to look for lavender varieties that are designed for cooking and especially tasty--called L angustifolia, or true lavender, or English lavender. You can learn more about culinary lavender if you check out the sample pdf of my book.
Ingredients
6 or 7 slices smoked bacon
1 large onion and 1 large celery stalk, chopped
¾ teaspoon each coarsely ground dried culinary lavender buds and dried thyme leaves
3½ cups canned reduced-sodium chicken broth
2 cups peeled and cubed (1/3-inch) Yukon Gold, red bliss or other boiling potatoes
¼ tsp each black pepper and sea salt, plus more to taste
1½ cups rinsed and drained frozen yellow corn kernels
1 cup table cream or whipping cream
Instructions
Fry the bacon slices in a large skillet over medium-high heat, turning occasionally, until they are just cooked through and nicely browned. Transfer them to paper towels; let drain until cool enough to handle, then finely crumble into bits. Put 2½ tablespoons rendered bacon fat in a 3- to 4-quart soup pot or saucepan; discard the rest.
Place the pot over medium-high heat. Stir in the onion and celery. Cook, stirring frequently, 3 or 4 minutes, or until the onion begins to soften. Stir in the lavender and thyme and cook, stirring, 1 minute longer.
Immediately stir in the broth, potatoes, pepper and salt. Bring to a boil over high heat. Reduce the heat to a gentle boil and cook, uncovered, stirring occasionally, for 12 to 15 minutes, until the potato is cooked through.
If desired, with a potato masher, or the back of a large spoon, mash about ½ cup potatoes to slightly thicken the soup. Stir in the corn, crumbled bacon (reserve a little for garnish, if desired, and cream and continue cooking, uncovered, about 5 minutes longer to reheat and allow the flavors to mingle.
Taste and add salt and more pepper if desired. Thin the soup with a little hot water, if desired. Serve immediately, or cover and refrigerate for up to 3 days. Reheat over low heat, stirring frequently, to prevent burning. Garnish with reserved crumbled bacon, if desired. Makes 4 or 5 main-dish servings.