It's now time to harvest the beautiful culinary lavenders that are blooming in your garden or at pick-your-own farms. And also time to think about other true lavenders (technically known as angustifolias) that you might like to try.  Though they are all vaguely similar and good in food, each variety has its own unique look and spicy, citrusy, herbaceous taste and aroma. The pic at right shows me picking the first lavender to bloom in my lavender patch,  'Folgate.' It's not only excellent for cooking but is a pretty lilac-purple color. Plus, once established, it tolerates our hot, humid summers and the cold of some Maryland winters very well.
Below is a pic of some of the other beautiful culinary lavenders I grow and just harvested and bunched for drying: The very deep purple-blue (right center) is called Super Blue. It's fragrant and flashy in the garden, and its buds are a deep blue when dried. As a result, the steeped buds will lend a noticeable pinkish-purple color when infused with water or added to lemonade or made into jelly.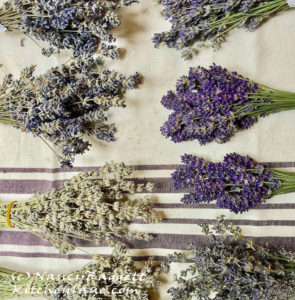 The lavender at the bottom right of the shot is 'Buena Vista," one of my favorite culinary lavenders. This is it's first year in the ground. As a result I don't know yet how hardy it will be. It's supposed to bloom throughout the summer, a great feature since I like having fresh blooms all season long. On the far left is 'Jean Davis,' which is pink in the garden, but turns gray when dried. Though pale-looking the buds have a bold, yet sweet lavender taste; they are terrific in dishes where you want lots of flavor but no dark flecks of herb.  The variety shown in the top left and right is Folgate; notice that it turns a pretty lavender blue when it dries.  Lavender farms are the best places to find various culinary lavenders, but to order two fine culinary lavenders to try–Melissa and Avice Hill, go here to PositivelyAromatic.  As  shown in the photo at right, another farm that carries a nice assortment of culinary lavenders by the 1/2 cup scoopful is White Oak Lavender farm; go here.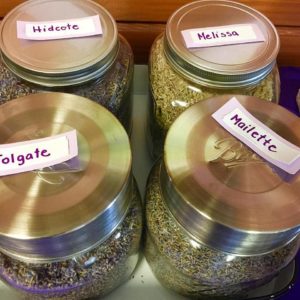 How do know when the lavender spikes are actually ready to harvest? The arrival of the bees will give you a clue. As soon as a few of the little "bloomlets," or corollas at the bud tips open, the bees (and butterflies too) come zooming in for the nectar.  In the photo below notice that about a third of the buds are topped with bloomlets.  Experts say this is when the fragrance, flavor and color are at their peak. Once the whole spike has open corollas, the bloom, so to speak, will be off the lavender.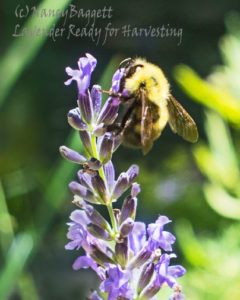 Use the just-harvested buds fresh or bunch the cut spikes, then hang them upside-down to dry.  My book, The Art of Cooking with Lavender, offers many tempting recipes to try. Here are several to get you started.