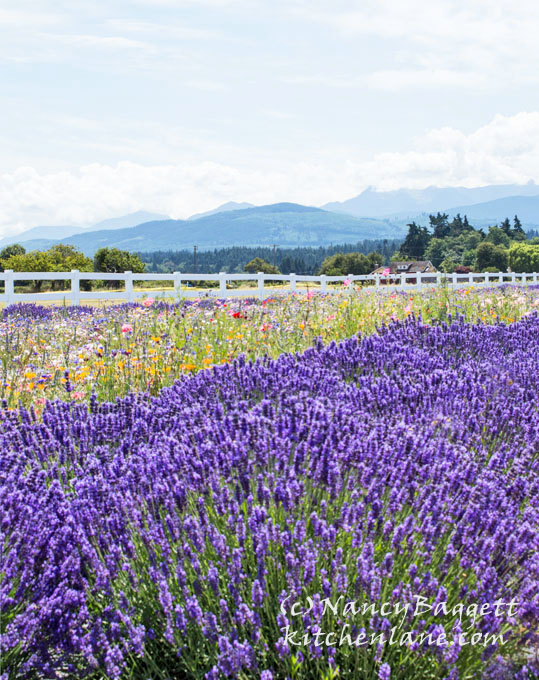 Many, many years ago I grew lavender in my garden. I liked the graceful look of its purple spires, and I adored its refreshing spicy fragrance that wafted up across the yard. But, unlike the rest of my herbs, which I constantly snipped for the kitchen, my lavender just sat there looking pretty. I didn't know it was edible! Then I moved to a new house, and for a decade didn't have lavender in my garden at all. I missed out on a lot–especially the opportunity to make the delightful Lavender Buttercream Frosting with Lemon featured below! (Lavender and lemon almost always go together well.)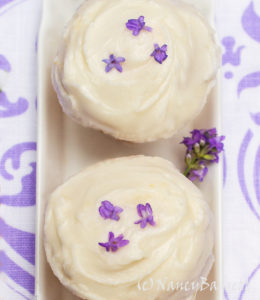 Over the past decade that's all changed. After researching the best lavenders for cooking, I purchased some gorgeous (unsprayed and organic) English lavender varieties in a garden center, planted them, and began trying them out in all kinds of dishes. I've discovered that culinary lavender enhances a huge array of ingredients, and frankly I've fallen hopelessly in love! In fact, it's so delectable in so many recipes (such as this Lavender Buttercream Frosting with Lemon), I've gathered together my favorites in my latest cookbook, called The Art of Cooking with Lavender. See details and recipes from the book here.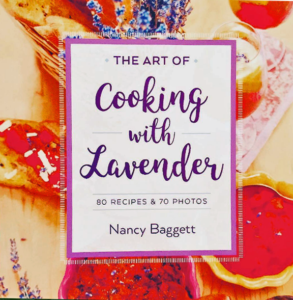 In case you're skeptical about the potential of lavender as a recipe ingredient, let me assure you that if you use a culinary variety and also use a light hand your dish won't taste like soap or cologne. Like rosemary or thyme, culinary lavender just adds a fresh, distinctive herbal-citrus note. Tasters often can't identify it, but enjoy it very much. And it works beautifully in both sweet dishes, like cakes and puddings, and savory dishes such as marinades and meat rubs.
What Exactly is a Culinary Lavender?
The best lavenders for cooking are in the Lavandula angustifolia, or "true" lavender family, sometimes called English lavender even though almost all lavenders are native to the Mediterranean area!  If you are buying lavender plants that you want to cook with as well as admire in the garden, some of the most appealing ones include 'Folgate,' 'Munstead,' 'Beuna Vista,' 'Betty Blue,' 'Hidcote,' 'Hidcote Pink,' and 'Melissa' (which is also pink), plus the popular French lavender or lavandin hybrid 'Provence.'
The lavender in the top photo and below left are both culinary lavenders. Skip any lavenders labeled "fern-leaf" (Lavandula multifida), or "tooth-leaf" (Lavandula dentata), or "Spanish" (Lavandula stoechas) for cooking. Their flavor will likely be overly strong, peppery and even bitter. That's a stoechas lavender at right below–note that the petals of  the so-called Spanish lavender always form a colorful topknot. That's a telltale sign that this lavender is not edible–even though you'll sometimes see it shown in pics as a garnish or ingredient by a cook who doesn't know it shouldn't be used.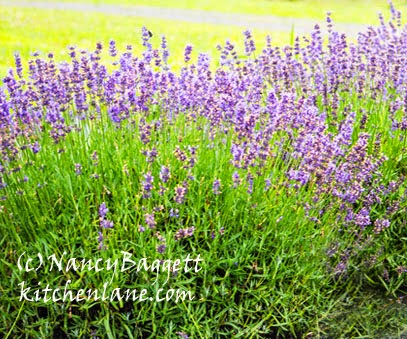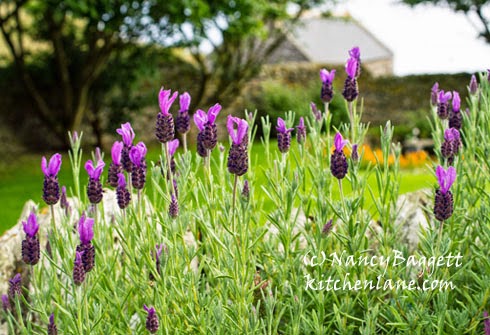 I've found that culinary lavender has a great affinity to fresh summer berries and fruit, especially blackberries and peaches. In fact, I created a peach-berry compote that's featured in Eating Well magazine. I routinely add a couple culinary lavender flower heads, or spikes, to infuse cooked fruit compotes, sorbet mixtures such as the one here, and jams, jellies, chutneys, and even barbecue sauces and marinades.
Lavender is also delightful in many baked goods, including muffins, scones, cakes, baked custards, cookies and much more. And it's wonderful in the lavender buttercream recipe featured below. Notice that in the pics I decorated the cookie and cupcake tops with tiny fresh lavender bloomlets (technically, these are called corollas). They not only add wonderful natural color, but provide a pleasing little zing of extra lavender flavor when you bite into them.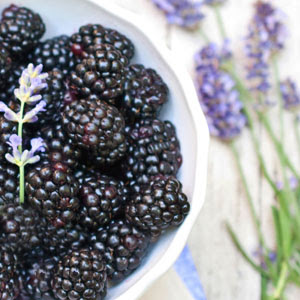 Lavender Buttercream Frosting
I love this lavender-lemon flavored buttercream! Yes, regular lemon frosting is enticing, but here the added lavender spiciness propels the taste and aroma into the extraordinary range. It's best to use fresh culinary lavender, but not essential. If you have only dried lavender, steep 2 teaspoons of it in a tablespoon of very hot water for 10 minutes, then press the liquid through a fine mesh sieve and add it at the end with the orange juice. If you have lots of culinary lavender in bloom, pluck some tiny purple bloomlets from the flower heads and reserve them for garnish. Then finely chop the bloom heads, called spikes, and process in the food processor extra-thoroughly.

Use the buttercream to pipe into rosettes or to swirl over cupcakes or cookies with a table knife. Or tuck the frostings between cookies for a sumptuous sandwich filling. It's best to make the frosting in advance and refrigerate, then bring it back to room temperature when you want to use it. The flavor actually seems to intensify and "bloom" during storage.
Serves:
Enough frosting to cover about 30 2½-inch cookies and a dozen cupcakes
Ingredients
3 cups powdered sugar, plus more if needed
1 tablespoon finely grated lemon zest
1 teaspoon minced fresh culinary lavender buds or lavender flower heads (or substitute 2 teaspoons dried lavender buds steeped in 1 tablespoon hot water)
5 tablespoons unsalted butter, cool, firm, and cut into pats
1 to 2½ tablespoons orange juice, or as needed for spreadable consistency
Instructions
In a food processor combine the sugar, zest, and fresh lavender; if using dried lavender, steep it, then strain and add it along with the orange juice. Process until the zest is very finely ground and the mixture is thoroughly blended, about 4 minutes; for the smoothest frosting texture don't under-process. As necessary, scrape down the bowl sides and bottom, then continue. Add the butter and process in pulses until just smoothly cut in and no bits remain; the frosting should not be coming together in a mass.
With the motor running, gradually add juice (and lavender liquid if not using fresh lavender) through the feed tube until the desired piping or spreading consistency desired; remember that the frosting will stiffen slightly during standing. If necessary adjust the frosting consistency, adding powdered sugar to stiffen or juice to thin it. Cover and refrigerate at least 30 minutes and up to several days; let come back to cool room temperature before using. (It actually improves upon storage.)
To use the frosting: Let warm up slightly and if it is too thick, stir in a few drops of water. Add small dollops to the center top of cookies or larger dollops to cupcakes, then swirl attractively with a knife. Or, spoon it into a pastry bag fitted with a ½-inch or larger open star tip. Pipe 1- to 1½-inch diameter frosting rosettes onto cookies and large rosettes onto cupcakes.) Or, using a knife, spread the frosting between cookies for cookie sandwiches, or on cupcakes, as shown.
If desired, add fresh lavender flowers or fine shreds of fresh lemon zest on cookie or cupcake tops for garnish.
Notes
Tip: To be sure that the lavender and lemon zest integrate smoothly, always process them with the powdered sugar very thoroughly as directed. There may still be very fine flecks of them in the finished frosting.

Tip: For a frosting with a light lavender color you could add a drop or two of red and blue food colors. I prefer botanically based food dyes, as the usual petrochemical ones can cause allergic reactions in some people (including me!).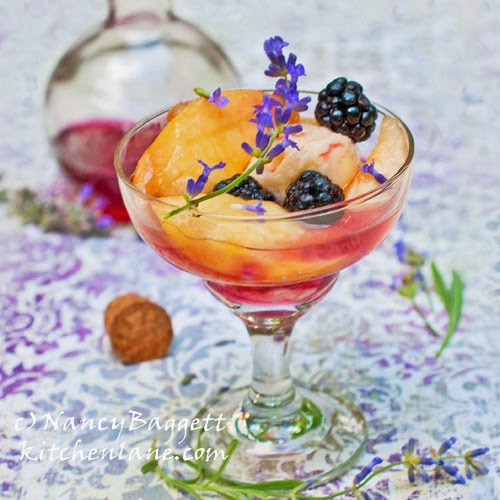 Another recipe you may enjoy — a lavender-blackberry syrup for sweetening fruit compotes, brightening lemonade, or adding to a cocktail.  Or do try this totally delish Peach-Lavender Freezer Jam.