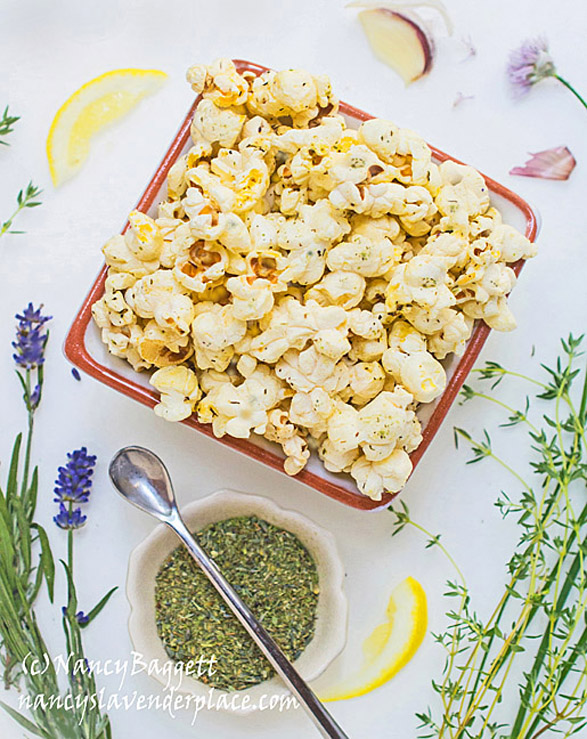 Most of those who've tasted lavender in cooking have usually sampled it in shortbread or lavender ice cream. It's terrific in both, but in fact, lavender is an herb in the very large and useful mint family. So, like its relatives, mint, rosemary, and oregano, lavender can also bring out the best in all sorts of savory fare. I have a nice variety of lavender-enhanced recipes in The Art of Cooking with Lavender, from a full-bodied tomato soup and hearty pork chop and apple entree to a very versatile honey-lavender barbecue sauce. But recently I've come up with a new savory recipe called Lavender-Herb Seasoned Popcorn. Frankly, it's so addictive I can't stop eating it!
Actually, my book already includes a tempting lavender and orange frosted popcorn, because popcorn is a favorite snack of mine.  But this recipe goes in a totally different direction with little zesty, fragrant hits of not only lavender but chives, thyme, garlic, black pepper and lemon. Just writing this has made me have to get up and scarf down a handful of the seasoned popcorn twice! (The bag is now empty…I need to pop more corn NOW!)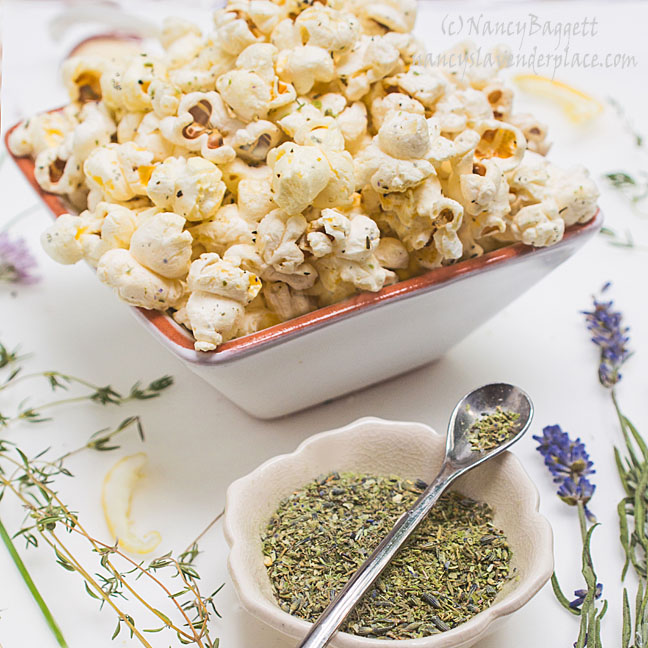 The Lavender-Herb Popcorn Seasoning recipe makes enough to zip up 5 or 6 batches of popcorn, which at my house doesn't last very long, so I often double it. And it was delightful in a melted butter dipping sauce for steamed shrimp.
For your convenience I've also included directions for readying a 2-quart batch of lavender-herb seasoned popcorn below the mix. You can use purchased plain popped corn, or pop your own; IMHO, home popped tastes fresher and is usually more economical.  You'll notice that the recipe calls for adding the seasoning mix right in with the melting butter rather than just sprinkling it over top at the end. This way the butter becomes infused with the herb flavor, delivering a richer, mellower taste.
It's handy to store the seasoning blend in a recycled spice jar. Do take the time to label before you stash it, otherwise you could end up (as I have) with a mystery mix in your cupboard!

Savory Lavender-Herb Popcorn Seasoning
I can never eat just one handful of popcorn seasoned with this lavender-herb blend. And I'm betting that you can't either. Tip: Several different lemon-pepper seasoning blends are on the market and some are saltier and more peppery and lemony than others. So, I suggest you start by using only ¾ teaspoon, then, if you like, adding in a little more once you've tried the mix on popcorn.
Serves:
⅓ cup seasoning mix.
Ingredients
Lavender-Herb Popcorn Seasoning
2½ tablespoons chopped dried chives
1 tablespoon dried culinary lavender buds
1 tablespoon dried thyme leaves
¾ to 1 teaspoon commercial lemon-pepper seasoning, to taste
½ teaspoon garlic salt
Batch (2 quarts) Lavender-Herbed Seasoned Popcorn
4 to 4½ tablespoons salted or unsalted butter, cut into chunks
2 to 2½ teaspoons lavender-herb popcorn seasoning
8 cups unseasoned or very lightly salted popped popcorn
Salt to taste, optional
Instructions
To make the seasoning mix: Combine all ingredients in a mini-chopper or food processor and chop or process 2 minutes or until ground. Store airtight in a dry cool spot for up to 6 months. Makes ⅓ cup seasoning mix, enough for 5 or 6 batches of popcorn. The recipe may be doubled if desired. It will keep in an airtight bottle in a cool, dark spot for at least a year.
To make a batch of popcorn: Combine the butter and seasoning mix in a small saucepan and heat over medium heat to hot but not boiling. Stir well, then let stand so flavors can mingle 2 or 3 minutes. Thoroughly stir into 2 quarts (8 cups) popcorn.
For one of my really tempting sweets recipes featuring lavender go to my
Lavender-Lemon Buttercream recipe
.